Skip Navigation
Planetary Defense Conference Exercise - 2015
This webpage does not describe a real potential asteroid impact. The information on this page is fictional and provided only to support an emergency response exercise conducted during the International Academy of Astronautics (IAA) 2015 Planetary Defense Conference in Frascati, Italy, April 13-17, 2015. This is only an exercise.
The 2015 PDC Hypothetical Asteroid Impact Scenario, Update 3: December 27, 2016
Day 3 Images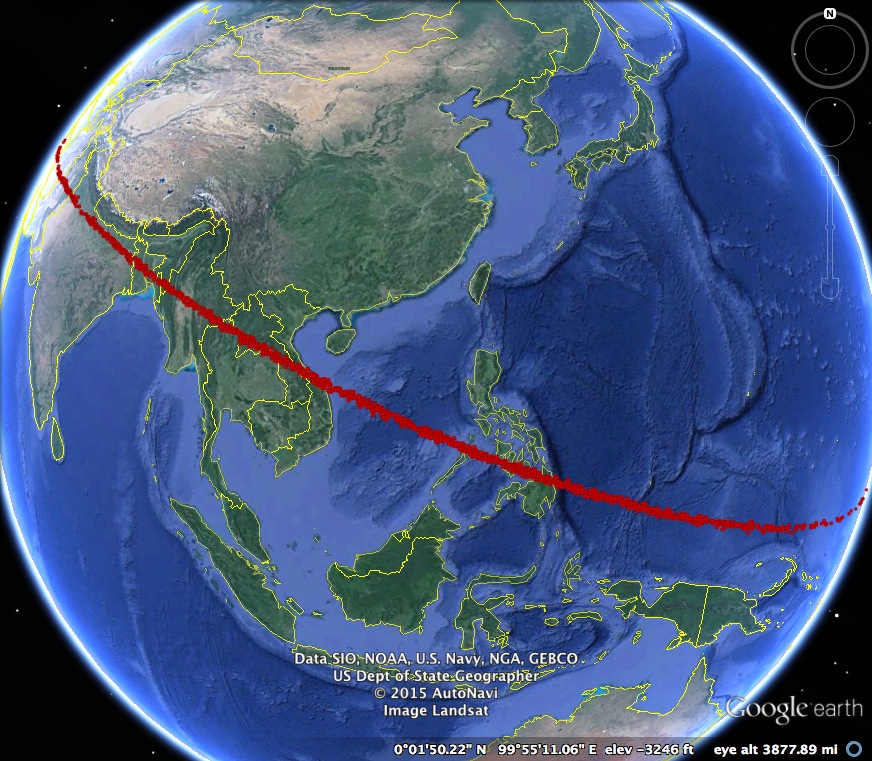 This image shows the updated risk corridor for 2015 PDC, traced by the red dots. The corridor is shorter now, and this single image shows its entire extent. The corridor now starts in the western Pacific Ocean, but from there it follows the same westerly path as before, crossing the Philippines, South China Sea, Southeast Asia, Myanmar, Bangladesh, India, Pakistan, Afghanistan, Iran, and Turkey. The significant change from the last press release is that the impact is now certain, and the asteroid is definitely headed for an impact somewhere within the red footprint.
Day 3 Notes
2015 PDC has not been observed for about eight months because the Earth was on the opposite side of the Sun from the asteroid.

The asteroid is recovered at an apparent magnitude of about 26 and a distance of about 2.1 AU from the Earth.

The new observations dramatically increased the accuracy of the orbit estimate and enabled m uch more accurate position predictions to be made for the potential impact time in 2022.

2015 PDC has now only completed about three quarters of an orbit about the Sun since discovery.