Skip Navigation
2022 Interagency Tabletop Exercise (PD TTX4)
This webpage does not describe a real potential asteroid impact. The information on this page is fictional and provided only to support an emergency response exercise conducted during the
Planetary Defense Interagency Tabletop Exercise 4
at Johns Hopkins University, Applied Physics Laboratory, in Laurel, MD, February 23 and 24, 2022. This is only an exercise.
The 2022 TTX Hypothetical Asteroid Impact Scenario, Module 3: August 10, 2022
Goldstone planetary radar detected asteroid 2022 TTX today, August 10, 2022, now only 6 days until impact.

The radar measurements indicate that 2022 TTX is roughly 70 m (230 ft) in size.

Goldstone had been attempting to detect the asteroid for the past week, but was unsuccessful until today. If the asteroid's size had been at the large end of the size range, Goldstone would have detected the asteroid days ago.

There is still some uncertainty in the size of 2022 TTX. The most likely range is 60 - 80 m (200 - 260 ft).

In addition to measuring the asteroid size, the radar data also provide very accurate tracking information. These data add to the growing set of tracking data accumulated over the last two months, leading to another significant improvement in the accuracy of the orbit and the impact predictions.

The impact will occur on August 16, 2022 at 2:02:10 pm EDT. The asteroid velocity at impact is 15.54 km/s (34,700 mph). The asteroid will approach at a fairly steep angle, 26 degrees from vertical, and the approach direction is from the north-northeast (NNE), 37 degrees east of north.

The expected impact location is now known to an accuracy of about 20 km (12 miles). The location and size of the predicted impact region is shown in the following diagram. Note that this region shows the predicted location of the impact at the surface: for a higher altitude the region shifts somewhat to the north-northeast (NNE).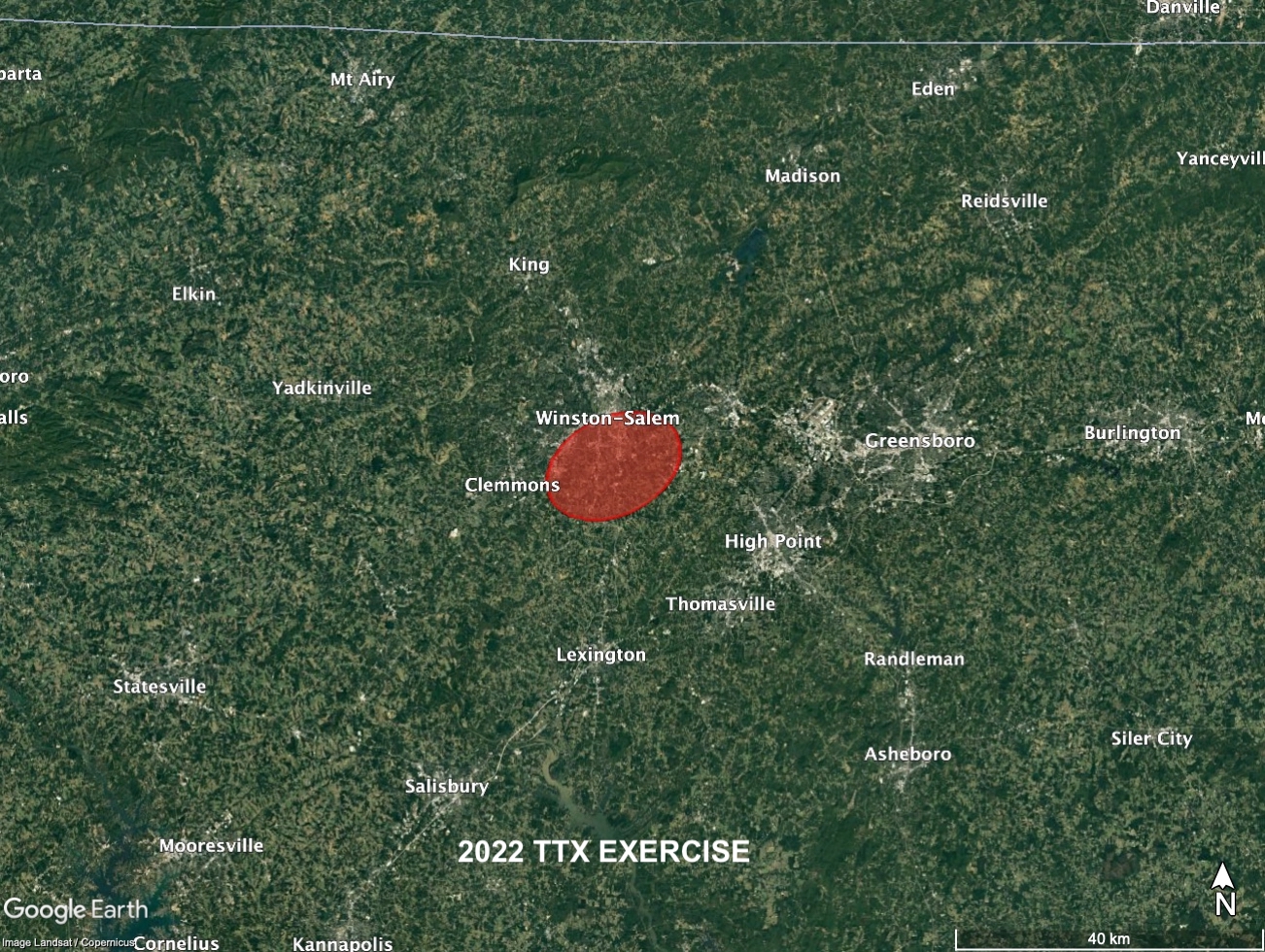 This image shows the predicted impact region for 2022 TTX, as of August 10, 2022
A Google Earth kml file for the impact region shown above is available here.