Skip Navigation
Planetary Defense Conference Exercise - 2023
This webpage does not describe a real potential asteroid impact. The information on this page is fictional and provided only to support an emergency response exercise conducted during the International Academy of Astronautics (IAA)
2023 Planetary Defense Conference
in Vienna, Austria,
April 3–April 7
, 2023. This is only an exercise.
The 2023 PDC Hypothetical Asteroid Impact Scenario, Epoch 2: October 23, 2024
Scenario Briefings at Epoch 2:
Epoch 2 Update to the 2023 PDC impact scenario:
Eighteen months have passed since Epoch 1 and it is now 100% certain that asteroid 2023 PDC is on a trajectory that will impact Earth on Oct. 22, 2036, 12 years from now.

The impact probability reached 10% by the end of June, 2023, at which point the asteroid became unobservable from Earth due to its low elongation from the Sun.

The Space Mission Planning Advisory Group (SMPAG), recommended in July 2023 that space agencies begin developing missions to the asteroid, for both reconnaissance and deflection.

When observations resumed in Nov. 2023, the impact probability quickly rose to 100%.

The latest orbit estimate indicates that the 2023 PDC is headed for impact somewhere within the continent of Africa. The diagram shows the predicted impact region.

Estimates of the size of 2023 PDC have been updated based on color data from ground observations, which help refine the asteroid type and likely albedo.

The diameter of 2023 PDC is most likely in the range of 300 to 880 meters (970 to 2900 ft).

If the asteroid impacts, the energy released will most likely be in the range from 76 Mt to 10 Gt (see Damage Assessment Briefing).

A simple flyby reconnaissance mission has been on a fast-track development path for 1.5 years and is now ready to launch; it will encounter the asteroid in December 2025, 25 months from now.

Other missions to 2023 PDC have also been under development (as described in the Mission Options Briefing: see link above).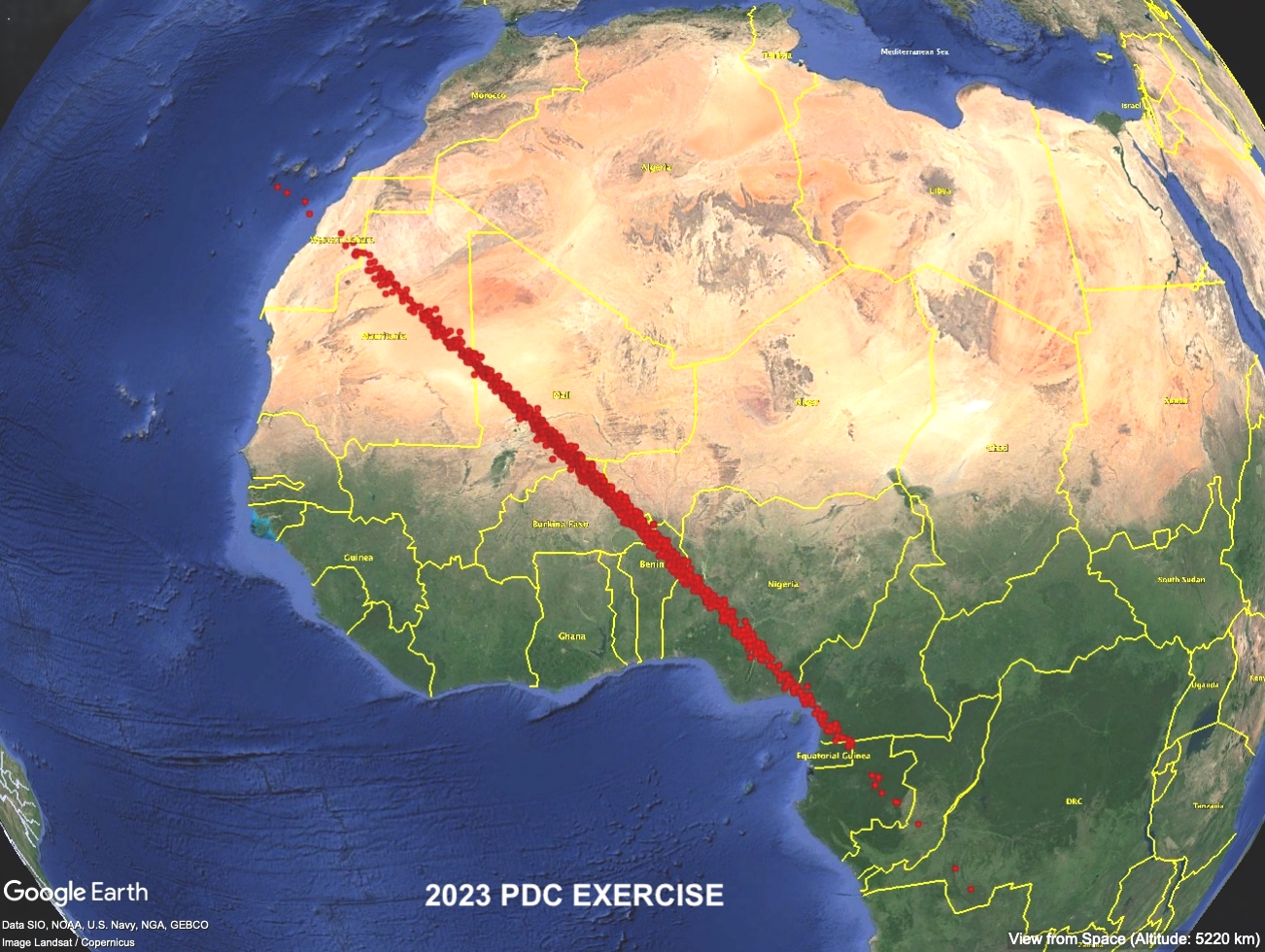 2023 PDC Impact Footprint at Epoch 2
A Google Earth kml file for these impact points is available here.
The orbit for the updated Epoch 2 trajectory for 2023 PDC has been loaded into JPL's HORIZONS system, and can be accessed via the name "2023 PDCa" or "PDC23a". HORIZONS can be accessed with this object preloaded via this web-interface here.

For those who wish to use SPICE Toolkit software to examine this updated trajectory of 2023 PDC, an SPK file has been created for it and is available here:

https://ssd.jpl.nasa.gov/ftp/xfr/2023-PDC/2023_PDCa-s8-merged-DE441.bsp

The SPK file is consistent with and contains additional DE441 planetary ephemeris information over the time-span 1998-Jan-01 through impact on 2036-Oct-22, permitting retrieval of object state vectors at any arbitrary instant within that timespan.